SHIPPING
Intro:
Quick, efficient delivery is vital for shipping floral bouquets. Our number one priority is to respect our commitments: deliver a product exactly like the one you ordered on our website as quickly as possible. We trust in our shipping partner DPD for our parcel deliveries in France and in Europe.
Shipping choices:
Home delivery in Mainland France:
Shipping steps:
Once you've placed your order, you will receive an SMS that lets you pick the delivery date and a three-hour time slot that best suit your schedule from DPD's list of options.
You just need to respond directly by typing '1' or '2' in an SMS depending on your choice (Standard SMS rate) or by visiting www.dpd.fr/destinataires for more choices (additional delivery dates, shipping to a different address, a neighbour's house or to a DPD agency, pickup point options).
On the day of delivery, you will receive an SMS reminding you of your chosen time slot.
Track your package at www.dpd.fr.
Delivery times: Once our carrier receives the package, the delivery time will be between 24h and 48h on business days in Mainland France (excluding Corsica).
Rates: From €8 VAT included
Shipping to pickup points (Mainland France)
Pickup points are practical and flexible: thanks to a network of more than 5,000 local businesses (tobacconists/newsagents, grocery shops, florists, etc.), you can pick up your package in less than 15 minutes from your home (a network of pickup points with 95% of the French population living less than 15 minutes away from one of the points).
You can find a pickup point near you by clicking here: https://www.pickup.fr/relais/recherche.sls
You will receive a message via SMS or E-mail letting you know your package has arrived at the pickup point.
You can track your package by clicking here:
https://www.dpd.fr/trace?searchmode=0&exa=2500663102954276
Delivery times: 24h to 48h on business days – Once your package has arrived at the pickup point, you will have 8 to 14 business days to pick it up.
Rates:From €7 VAT included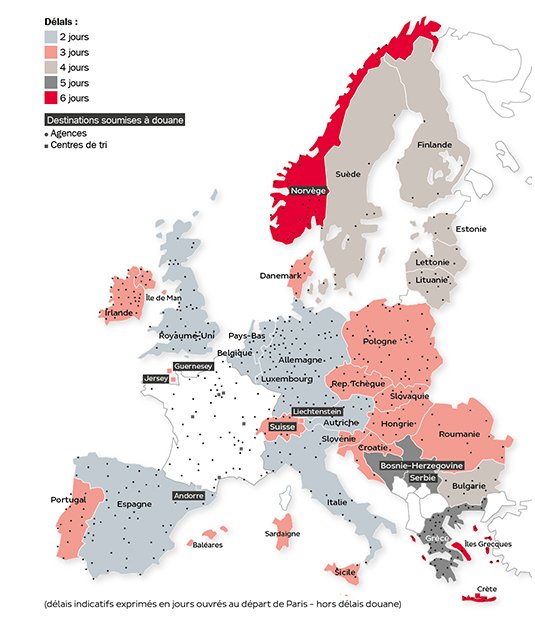 Shipping abroad:
Our carrier DPD handles parcel deliveries to 32 destinations in Europe (see the map below).
Delivery times vary between 1 and 6 business days depending on the destination (excluding customs delays).
Germany, Belgium, Luxembourg, Holland: From €9,99 VAT included – 3 to 4 business days
Austria, Spain, Great Britain*, Italy: From €9,99 VAT included – 3 to 4 business days
Great Britain*: shipping conditions for Great Britain may change in the coming months.
Other countries: Please contact us for further information about shipping to countries other than those cited above.
Delivery times are for information purposes only and are not guaranteed; they represent average delivery times observed by our carriers.